*This post may contain affiliate links. As an Amazon Associate we earn from qualifying purchases.
You want your kids to play outdoors. However, it's tough for parents to get their kids off the couch and away from the video games and Youtube videos they love. The Razor e90 electric scooter is a possible solution to your parental woes. It's an electric scooter, so they're only doing half the work when playing, but even an electric scooter gets them outside with their friends — and any exercise is better than no exercise, right? And it definitely beats having them sit inside all day doing nothing and staring at a screen for eight hours straight.
But not just any electric scooter will do. You need one that's the right size for your kid, safe, durable, and can run for more than a few hours without having to be recharged. And that's where the Razor 390 electric scooter comes in.
Comparison Table
[amazon box="B01D4X7CJ6,B0793BPQ11,B07PHPY3Z6,B07FVDH7BB" template="table"]
About the Razor e90 Electric Scooter
[amazon box="B01D4X7CJ6″]
When comparing the Razor e90 electric scooter to other brands, consumers should consider several features, specifications, and designs. Weight capacity, speeds, and functionality are also some of the many aspects to consider when choosing a new scooter. These are some things that set the Razor e90 electric scooter apart from competitors.
Motor & speed
The Razor e90 electric scooter features a 12-volt, 100-watt kick start battery. A single battery powers the engine, in comparison to higher-end models with dual-batteries. The top speeds kids will achieve on this scooter is about nine miles per hour (MPH). This speed is in comparison to some higher end (and more expensive) models, that can reach 10 to 15 MPH. The Razor e90 electric scooter has less torque than other models with dual-motors. But, for young kids, and lighter weight capacity, it should more than suffice.
Specifications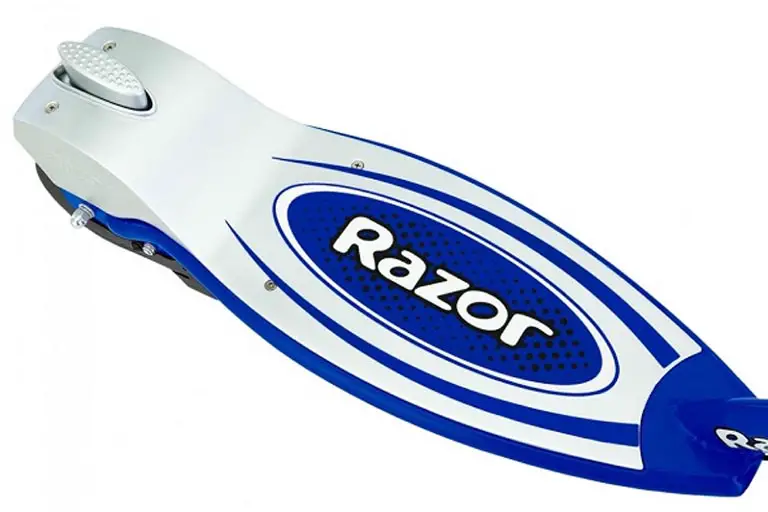 Image by: gearscoot.com
The frame of the Razor e90 electric scooter is 31 inches X 14 inches X 33 inches. The product weighs about 22 pounds and appropriate for kids age eight and older. It features a chain-driven motor, and it gets approximately 30 miles per charge. The 12-volt battery features a sealed cover, and the charging time for this scooter is about 12 hours. The powder coating material on the steel scooter also helps prevent rust and deterioration.
Features
There are many great features owners will appreciate when riding the Razor e90 electric scooter. It features a push throttle acceleration. The kick-start motor helps prevent accidental start ups also. The handbrake in the front fender and urethane front wheel won't wear out quickly. It is maintenance free and features a steel frame finish. It is well-built, and owners can ride it in wet or dry conditions.
Battery life
In comparison to the old version of the Razor e90 electric scooter, the new model gets up to 80 minutes ride time. The previous model only got up to approximately 50 minutes before having to recharge the battery. With over a 50 percent increase in battery life and performance, owners can use it for more extended periods, without having to worry about the battery draining quickly.
Rider Age And Razor E90 Electric Scooter Weight Limits
Image by: pexels
The Razor e90 electric scooter can hold users up to 120 pounds. The recommended weight is between 100 to 120 pounds for riders. It is also best for riders who are eight years of age or older. The manufacturer recommends children should be at least 10 years old to ride safely. These limits make it an excellent scooter for kids up to younger teens looking for an electric scooter. The trusted Razor name ensures quality in design with this scooter.
Advantages and Disadvantages of the Razor e90 Electric Scooter
There are several advantages and disadvantages the Razor e90 electric scooter presents to owners. It's important to consider the positive and negative features before investing in this scooter. These are some of the most prominent pros and cons we found.
Pros
Several great features set the Razor e90 electric scooter apart from competitors. For those shopping for a child's electric scooter, some of the best parts of this product are:
It has a long battery life, achieving up to 80 minutes ride time before it's necessary to recharge

The scooter features pneumatic tires; this is great for bumpy roads or uneven pavement riding

It is maintenance free

It can accommodate kids and teens up to 120 pounds

Safe speeds for kids ensure they're safe while riding it

This product is available from Razor so that consumers can rely on quality and brand-name reputation
Cons
Some drawbacks are also worth mentioning for those considering purchasing the Razor e90 electric scooter. Some of the problems with this scooter include:
It is not foldable and easy to store away

It isn't portable, making it difficult to take around when not riding it

The rider weight capacity isn't as high as some comparable models in the same price range

The scooter is for kids eight or older. However, the manufacturer recommends it's best for kids age 10 plus
How We Reviewed the Razor e90 Electric Scooter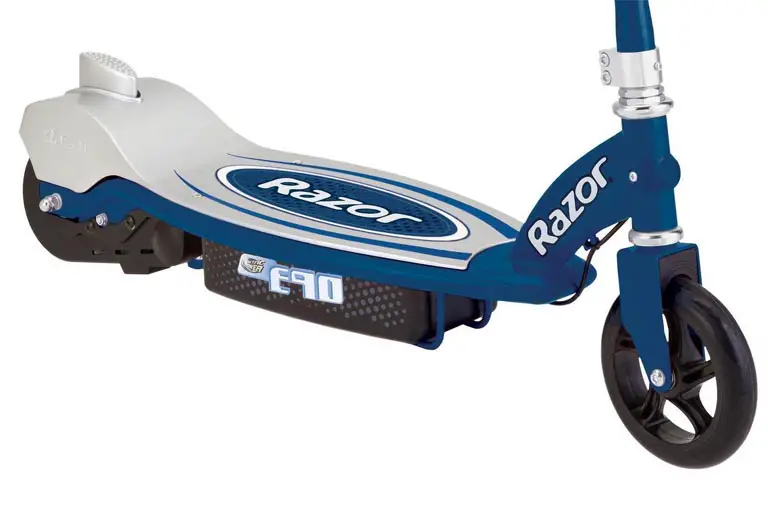 Image by: everbiker.com
Our review compares other kids' electric scooters. We examined the features, design, age group, and specifications of comparable products. We also included models of varying price points so that parents can find the best product for an affordable price. And we include safety features as well as consumer ratings for each comparable scooter.
The Best Scooters Available
Other electric scooters offer similar features as the Razor e90 electric scooters. For parents looking for a comparable brand, or model, these are some of the best options available.
[amazon link="B0793BPQ11″ title="Costzon 24-Volt Electric Scooter" /]
[amazon box="B0793BPQ11″]
The scooter is affordable, easy to set up, and features a wide user range for teens 14 and older. It features a kickstand to avoid accidentally setting off the scooter. The 7.5 MPH limit, and nearly 10 miles range, allows users to ride the scooter several miles before recharging. It also comes in a foldable or non-foldable model making it easy to transport anywhere.
It includes two 12-volt batteries, allowing riders to enjoy longer ride times and higher speeds. The handlebar can adjust to accommodate the rider's height. The handbrake also makes it easy to stop in dangerous situations and avoid accidents. The scooter can also carry passengers up to 155 pounds in weight. So it is ideal for teens as well as young adults. The product is great for commuting to/from class or getting around town.
The only drawback is that the Costzon name isn't as recognizable as others, like Razor. So, some consumers might be wary of investing in this scooter. But, for the low price, some consumers might choose it over comparable models.
Aosom 120-Watt Electric Scooter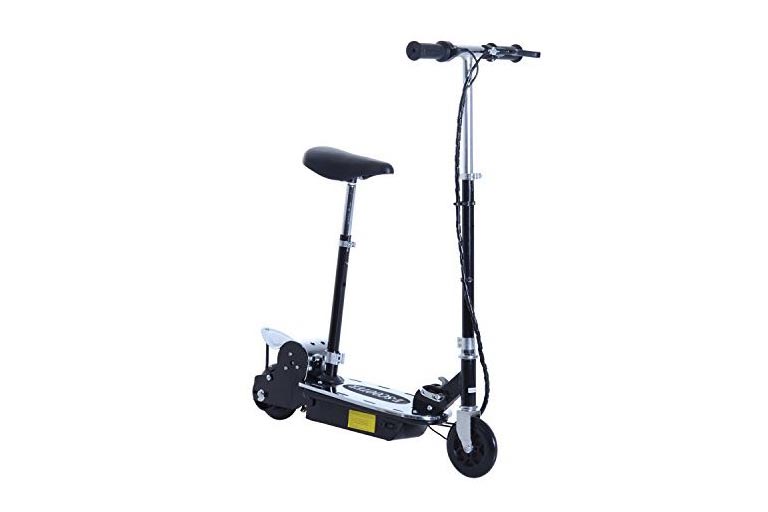 Image by: ​aosom.com​​​
This electric scooter features a 120-watt battery. It also features a built-in seat and can achieve speeds up to 7.5 MPH. It also features LEDs around the wheel. This feature is great for safety in the evening and at night and it the flashing just look cool from a distance.
The front handbrake affords owners full control and allows them to start and stop the scooter while riding comfortably. The rechargeable battery takes between eight to 12 hours to charge and owners can expect to get between 6 miles to 9.5 miles on a single charge. The maximum weight capacity is 176 pounds, so it is great for kids and young teen riders also.
Some concerns with the scooter's quality are present in user reviews. One reviewer writes that some parts of the scooter bend easily. It is possible to dent/damage different areas while riding. The instructions aren't clear either, so it requires a learning curve for new riders.
[amazon link="B07PHPY3Z6″ title="Bibene Electric Scooter" /]
[amazon box="B07PHPY3Z6″]
This scooter is a good option for teens to young adults. It has a higher weight capacity than the Razor e90 electric scooter. It can hold up to 200 pounds and is for kids age 13 and older. The scooter can achieve speeds up to 15 MPH, and its battery can last up to 500 cycles.
The 25-volt lithium ion battery is sturdy and goes longer distances than comparable scooters. It doesn't require as much charging as other products either. The ultra-slim deck is easy for riding, and the adjustable handlebar is great for riders of all heights. A natural fold function makes this scooter highly transportable also so owners can take it to/from class or for riding around town.
One reviewer notes that the product is not the same as the one they bought on Amazon. Consumers should make sure they're ordering the right model, to ensure they're happy with their order.
[amazon link="B07FVDH7BB" title="TianRun Electric Scooter" /]
[amazon box="B07FVDH7BB"]
The scooter can travel between 10 to 15 MPH. It can also go 8 to 15 miles before requiring a recharge. The 8.8 Ah battery is durable, and the 264-pound weight capacity makes it great for teens and adults. The scooter features a carbon-fiber finish so that it won't rust in the rain or wet conditions. There's an LCD allowing owners to adjust settings and speeds easily. The scooter also features three-speed settings.
The three-second portable, fold and carry system, ensure owners can easily transport the scooter. It comes with a one-year warranty also. It weighs approximately 16 pounds, so it is not too heavy to carry around. The scooter also features large 5.5-inch front pneumatic tires, helping minimize shock on rough riding surfaces.
Some reviewers complain of the quality and finish of this scooter. One reviewer notes that they got their scooter, and it had defects upon arrival. So, they weren't able to use the scooter and had to return it.
Our Verdict: Is the Razor e90 Electric Scooter the Best in its Price Range?
The Razor e90 electric scooter is one of the best electric scooters for kids. The Razor brand is a leader in the industry so parents can rely on quality as well as the safety features the company built into the scooter. It accommodates children to young teens. The long battery life and kick-start motor are nice features that ensure a smooth ride/operation. The scooter also features a nice riding deck and a steel powder coating finish so it won't rust or damage easily in the rain or other outdoor conditions. The quick charge time and simple operability make it an excellent option for younger kids to enjoy time with friends. The price is also comparable to other products and lesser known brands of electric scooters.
Image by: pexels
For those looking for an alternative brand, the Costzon 24-volt scooter is not a bad choice. It is affordable, features a powerful 24-volt battery. There is a foldable and non-foldable model, and the scooter can achieve nearly eight miles on a single charge. With speeds up to 10 MPH, it is also comparable to the Razor e90 electric scooter. Short charge times of up to eight hours also reduce downtime after riding the scooter. The scooter is ideal for teens and young adults. An adjustable handlebar also allows kids of varying heights to adjust to their liking easily.
For parents looking for an affordable, high-quality scooter with a simple design, the Razor e90 is a good pick. Although it lacks in some of the bells and whistles found in other scooters and only has a single motor, for younger children, it's still an excellent choice. The low price point and built-in safety features are aspects parents can appreciate when choosing an electric scooter.