*This post may contain affiliate links. As an Amazon Associate we earn from qualifying purchases.
Imagine zooming along, on your self-propelled board, while the rest of the city sits in tightly packed public transit. If you're tired of the bus commute to and from work, the Yuneec E-go Electric Skateboard is an alternative to consider. You want to get to different destinations on time and safely. An electric skateboard is a great mode of transportation for in-city riding. It's almost like flying, and it certainly gives you a lot more control over your commute without adding to the pollution problem like driving does.
If your boss has given you an ultimatum, or you're tired of waking up extra early, just to miss the bus, you don't have to worry any longer. With an electric skateboard, you have a simple and efficient mode of transport that is reliable. And, it is an Eco-friendly way to get around town, without having to worry whether you're going to make it into the office on time. Not to mention, it's just plain fun.
Benefits of Electric Skateboards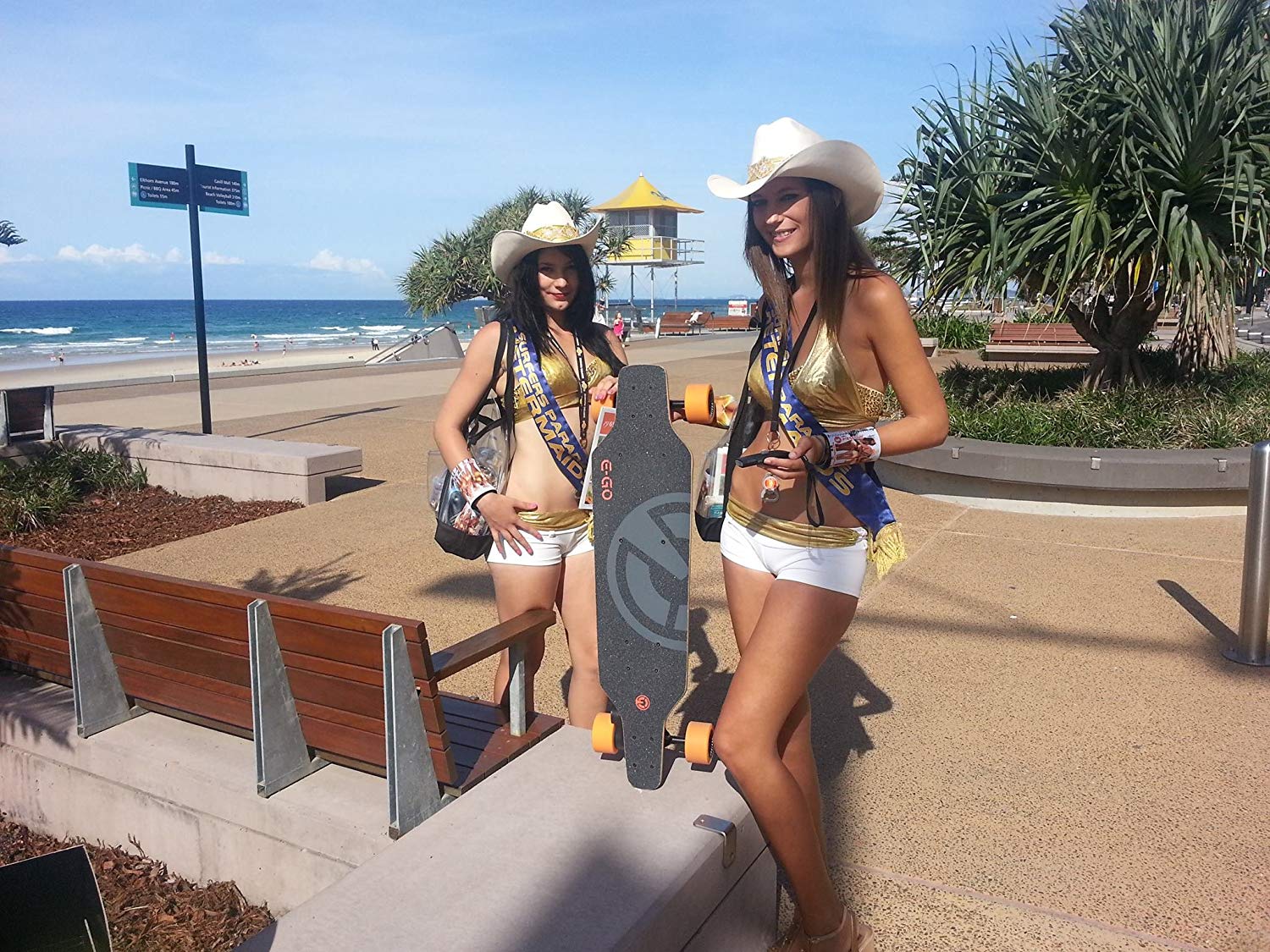 Image from Amazon
Owning an electric skateboard is beneficial on many fronts. Getting to places faster, eliminating CO2 gases and noxious fumes, and giving riders complete control of their commute are some benefits. Some additional benefits the Yuneec E-go Electric Skateboard offers its owners include:
An elegant design with sleek finishes and detail

Pneumatic wheels which glide seamlessly on pavement and dirt

Personalization options with a smartphone app
The Yuneec E-go Electric Skateboard is extremely reliable. It is lightweight, however, it is designed with quality materials for long-lasting use. It features a brushless motor which is intended to last for several years without wearing down. The skateboard also features a durable deck which is flexible and provides optimal support for riders. It isn't too stiff, so users won't feel uncomfortable during longer rides on the skateboard deck.
Yuneec E-go Electric Skateboard Specs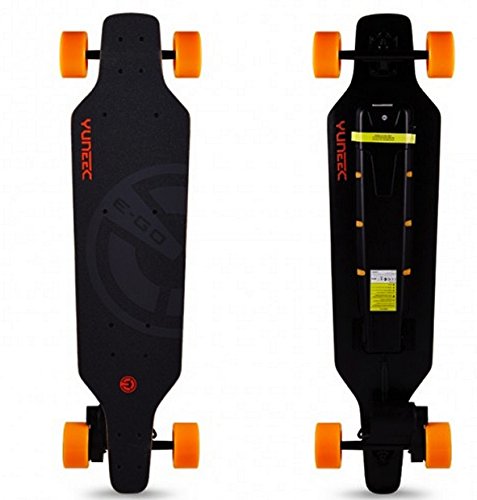 Image from Amazon
The Yuneec E-go Electric Skateboard weighs about 14 pounds. Its top speeds are about 13.5 miles per hour and it requires three to five hours for a full charge. The maximum user weight for this skateboard is 220 pounds. With their purchase, customers receive a the wireless remote, charger, USB cable, t-tool, and pin-tools to put the skateboard together. The Bluetooth, wireless remote is compatible with most smartphone models.
Yuneec E-go Electric Skateboard Features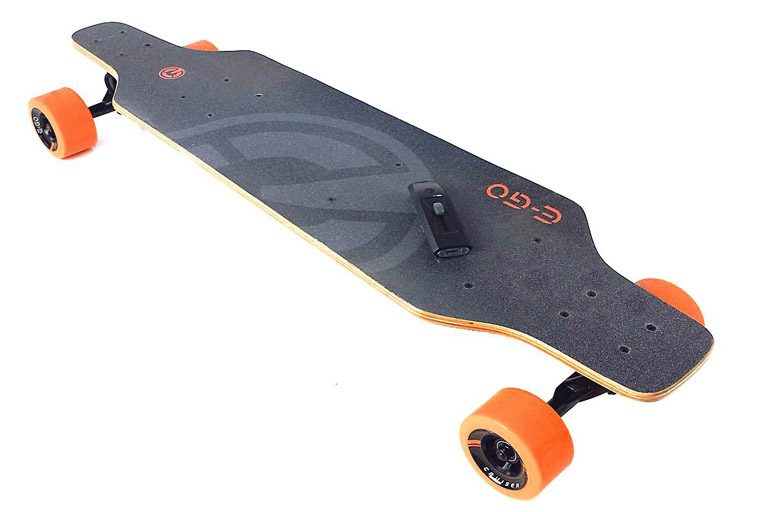 Image from Amazon
Of course, it's important to consider the great features of the Yuneec E-go Electric Skateboard prior to purchase. This allows consumers to determine if its the right model for their needs.
Range and riding time
The skateboard is capable of traveling up to 18 miles on a single charge prior to requiring owners to recharge the battery. This is ideal for those who travel a short distance to/from work daily. It allows users to use the skateboard several days on a single charge.
The riding time for this skateboard's battery is approximately three hours. At a rate of 13 miles per hour, the skateboard can travel approximately 40 miles before requiring a full recharge.
Lightweight and versatile
The Yuneec E-go Electric Skateboard is lightweight. Weighing in at under 15 pounds, it won't slow riders down during their commute, nor is it cumbersome to maneuver. The electric skateboard is highly versatile and perfect for commuting to and from work, to the supermarket, or for leisure travel/rides. It is highly portable and won't weigh down bags or luggage on trips, and is easy to transport. In the event owners want to place it in their car, it won't take up too much space in the back seat or trunk compartment.
Wireless controller and smartphone app compatibility
The wireless controller allows riders to control direction, speed, and maneuverability with the touch of a button. It fits comfortably in the rider's hand and allows them to control speed and other riding aspects on the board. A smartphone app is another option riders can utilize to control the Yuneec E-go Electric Skateboard. It is compatible with both Android and iPhones. Users can dictate speed, direction, and other riding parameters using the smartphone app.
Speed control
The Yuneec E-go Electric Skateboard features a slow and fast mode for riders to choose from. The slow mode is ideal for those who are learning how to ride. The fast mode is for more experienced riders. ECO and sport are the designated riding styles. Depending on the setting, the battery consumption and acceleration rates will differ. Riders can set the riding mode based on their travel destination, times, and riding experience levels.
Yuneec E-go Electric Skateboard Pros & Cons
Before purchasing a new electric skateboard, riders should consider the benefits and drawbacks of several products. Some of the pros owners will enjoy that the Yuneec E-go Electric Skateboard offer includes.
Consumers should also consider the drawbacks of the skateboard which include.
Pros
Simple controls allow experienced and beginners to learn how to ride the skateboard easily

Energy consumption modes allow riders to determine speeds and riding parameters

Compatibility with iPhone and Android smartphones

Availability of parts virtually anywhere online where electric skateboards are available for purchase
Cons
The motor is extremely loud when riding the skateboard

It is expensive in comparison to other electric skateboards with a similar motor/capabilities

A long charging time of three to five hours

It doesn't reach speeds as high as other electric skateboard models
Because there are so many brands and models available, those who are shopping for an electric skateboard should compare several of them. Doing so allows consumers to decide if the Yuneec E-go Electric Skateboard, or other products, are best for their commute.
Comparison of Electric Skateboard Models
Several electric skateboards have features and designs that are similar to the Yuneec E-go Electric Skateboard. Below are a few models in the same price range consumers might consider when comparing the top-rated products within their budget.
[amazon link="B078HG8PWT" title="Blitzart Huracane 38 inch Electric Skateboard" /]
[amazon box="B078HG8PWT"]
[amazon fields="B078HG8PWT" value="thumb" image_size="large" image_align="center" image="2″]
At 38 inches in length, this longboard is capable of achieving top speeds of 17 miles per hour. Once the battery is completely charged, the skateboard can run for up to 10 miles. It also features a secure 36 volt, 4.0 Ah lithium-ion battery pack, which charges in two and a half hours.
One of the pros customers appreciate with this skateboard is the ergonomic wireless remote. They can easily accelerate and decelerate with the touch of a button. The maple and bamboo deck is durable and also features a premium grip-tape, to help riders stabilize and balance on the board.
One of the major complaints owners make is that it can only go 10 miles on a full charge. Some also complain that the skateboard gets stuck at top speeds when using the wireless remote. This is extremely dangerous, especially for new riders.
[amazon link="B07FXY3VVJ" title="Acton Blink Lite" /]
[amazon box="B07FXY3VVJ"]
Solid construction, with a top speed of ten miles per hour, makes this a perfect electric skateboard for teens and young riders. It has a user weight capacity of up to 130 pounds, making it perfect for those learning to ride. It comes with a six-month limited warranty on parts and the motor, in the event of defects.
[amazon fields="B07FXY3VVJ" value="thumb" image_size="large" image_align="center" image="2″]
Owners appreciate the safety aspects of this electric skateboard. Since it is made with younger riders in mind, the top speed of ten miles per hour is safe for beginners and novice riders. The skateboard also has built-in safety LED lights making riders highly visible in the dark. The skateboard is lightweight, at approximately eight pounds. It also comes with a Bluetooth remote.
One of the major complaints owners have is the reliability of the skateboard. Some claim it doesn't hold the charge and short circuits after only a few miles. Many owners also claim the battery completely gave out after only one or two months of owning the skateboard. Issues with power consumption and battery/power retention, are the biggest flaws customers note regarding this skateboard.
[amazon link="B0723DDBBT" title="Skatebolt Electric Skateboard" /]
[amazon box="B0723DDBBT"]
With top speeds of 25 miles per hour and a range of up to 15 miles on a single charge, this electric skateboard goes further and faster than most. It features eight layers of maple wood in the construction, creating a solid and sturdy riding frame. A 1000-watt dual-motor is efficient, and provides riders with longer ride times on a single charge.
[amazon fields="B0723DDBBT" value="thumb" image_size="large" image_align="center" image="2″]
This powerful electric skateboard has a hill climbing rating of 30 percent, which allows riders to easily ride up smaller hills and dips in the road. The higher weight capacity of 280 pounds also makes it accessible to many riders. The ABS regenerative brake system keeps riders safe and the LED lights provide additional safety for nighttime riders.
The high price-tag is a major complaint of many consumers as this skateboard is higher in price than most models on this list. 
Some also complain that the battery doesn't hold as long as the manufacturer claims. Complaints of sparks and possible fire or other safety hazards are noted by some owners when attempting to charge the skateboard.
Atom Electric B10 Skateboard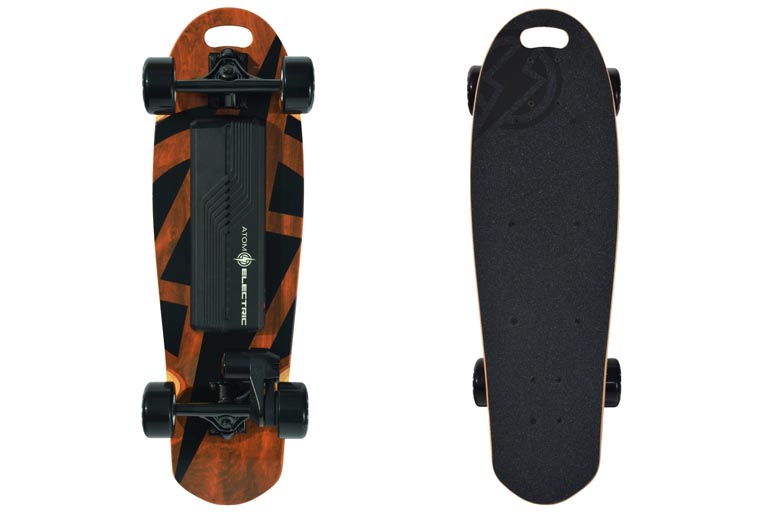 A powerful 1000-watt motor and superior software, make this one of the top electric skateboards available for the price. A regenerative braking system allows riders to seamlessly stop if they encounter any danger while riding. The skateboard achieves top speeds of 16 miles per hour and can ride up to seven miles on a full charge.
A nice feature of this skateboard is the 12 percent incline grade. Riders who want to go up smaller hills can do so easily with this skateboard. At only 11 pounds, the skateboard is easy to transport. The belt-drive motor is also efficient and economical to preserve battery power on the skateboard.
Owners complain that for the price, they would hope for a longer distance range than seven miles. Some also complain that the LED safety lights stop functioning shortly after purchasing the skateboard. Owners who are close to the max rider capacity of 220 pounds note the skateboard doesn't achieve the highest speeds
[amazon link="B01MZC8DCR" title="Alouette Phoenix Ryders Electric Skateboard" /]
[amazon box="B01MZC8DCR"]
Featuring a dual-motor, the 32-inch maple wood electric skateboard is durable and features an elegant finish. It has a maximum user capacity of 220 pounds and features six-layers of Canadian maple for a sturdy riding base. The wireless remote allows riders to accelerate, decelerate, and change directions seamlessly.
[amazon fields="B01MZC8DCR" value="thumb" image_size="large" image_align="center" image="1″]
Owners like the incline grade of 15 percent on this electric skateboard, allowing them to go up relatively steep hills when riding. The max speeds of 12 miles per hour are also similar to other electric skateboards in this price range. The wear-resistant pneumatic wheels also create a solid foundation and riding base for the electric skateboard.
Among the complaints purchasers have is the riding distance range. Most riders claim it only gets approximately five miles on a full charge. With the maximum cycle life of 500-rides, some also believe the skateboard is a little pricey for the limited lifespan. Lastly, riders note that the motor power tends to dissipate after only a few weeks of use, which reduces distance and speed capabilities.
Is Yuneec E-go Electric Skateboard the Right Skateboard for You?
For those who are on the fence about purchasing the Yuneec E-go Electric Skateboard, in comparison to other models, it seems to be the top choice. Consumers should note the product flaws. The fact that it is noisy when riding and doesn't feature an LED safety light, are two areas the manufacturer failed in. Additionally, the travel range of 13 miles is a bit shorter than some of the other electric skateboards on the list.
With these flaws, the Yuneec E-go Electric Skateboard does offer several benefits for riders of all ages. For the price, it is the skateboard which seems to have the best usability features. In addition to the wireless remote, users can also control it via a smartphone app. The skateboard does require three to five hours to charge. With this being said, most owners claim it achieves the full riding distance range of approximately 13 miles on a full charge.
The Yuneec E-go Electric Skateboard is reasonably priced in a competitive niche market. It does have some drawbacks consumers should consider. With those being noted, for the price, it seems to offer the best features on the list. In addition, similarly priced skateboards don't have as high of a rating as the Yunee E-go skateboard.