*This post may contain affiliate links. As an Amazon Associate we earn from qualifying purchases.
You only get to be a kid once, right? With the Razor e300 electric scooter, some teens and adults can relive their childhood memories. Electric scooters are great for everyday enjoyment and playtime for kids. However, they're also a good commuter option for some individuals as well.
Some people don't own a car, nor do they want to rely on public transportation. An electric scooter is an alternative to consider. Or, if you're shopping for the perfect holiday gift for your kids, it's also a great option. Electric scooters are eco-friendly, enjoyable, and they're much faster (and easier), than doing the kick-pedaling yourself. You don't have to succumb to adulthood just yet. Get out there and enjoy the warm weather while it lasts with a great electric scooter. If nothing else, you're kids are going to love playing with it as well.
[amazon box="B0085HM36Y, B07K9MB6X1, B07FVDH7BB, B018KTMOPG, B0793BPQ11, B0779FW1FC" template="table"]
Specs of the Razor e300 Electric Scooter
[amazon box="B0085HM36Y"]
For those who are considering a new electric scooter, the Razor e300 electric scooter is a good option. It weighs 52 pounds and features 10-inch wheels. The heavy-duty deck is full and accommodates adults and children who weigh below the user max weight capacity. The scooter features hand-operated brakes and is available in grey, pink, and blue.
Design and build
via Giphy
When comparing the Razor e300 electric scooter with competitors, consumers should consider factors such as structure and stability. The scooter utilizes a chain-driven motor, which owners claim is quite loud while operating. It has a brushed steel frame which is sturdy.
The simplistic design is also something that sets it apart from other scooters. It takes only a couple of minutes to put together out of the box. The scooter features large, pneumatic tires that create smooth transitions and turns also. For those looking for something efficient and straightforward, without many features, this scooter is a good pick.
Battery life and charge time
The battery life and charge time are two of the most significant issues owners have with the Razor e300 electric scooter. The scooter has a 24-vo​​lt battery that can last up to 45 minutes. The recommended charge time is 10 to 12 hours, however, charging for 24 hours will produce the best results. It features a chain-driven motor that can speed up to 15 MPH (miles per hour). The scooter can travel up to three miles per ride/use. For some users who are smaller and lighter, the scooter can go a little further per charge.
Who's the Razor e300 electric scooter for?
The Razor e300 electric scooter is for teens and adults age 13 and older. The rider weight limit is 220 pounds (or 100 kilograms). Parents should use their best judgment when choosing the scooter for children. Some kids younger than 13 are mature enough to ride. But, owners should note that the minimum suggested age is 13.
Benefits and Drawbacks of the Razor e300 Electric Scooter
Like every product, there are good and bad features consumers should familiarize themselves with about this product. Although the Razor e300 electric scooter is a great product, there are some drawbacks to consider. These are some of the best and worst features to weigh before choosing the scooter.
Pros
There are several great benefits the Razor e300 electric scooter affords its owners, some of these include:
A large riding deck making it comfortable for teen and adult riders

A higher weight limit than comparable scooters, at 220 pounds

Durable construction

A safe and secure scooter for daily riding/commute

Max speeds of 15 MPH, which is more than similar scooters in this price range
Cons
There are also some drawbacks to consider before choosing this scooter. Some of these include:
12-hour charge time, up to 24-hours for maximum usage

The riding distance of approximately three miles on a single charge is extremely short

The scooter is noisy while in operation

The 40-minute runtime doesn't allow users to get maximum enjoyment from the scooter.
The significant drawbacks relate to charging times and usability. But, this is the case with many electric scooters. Consumers should weigh these and the positives when comparing the Razor e300 electric scooter with other scooters.
How We Reviewed the Razor e300 Electric Scooter
Our review process compared the scooter with other top models/brands. We included first-hand reviews by owners of comparable products. In the analysis, we also included scooters of varying prices for different rider age/weight groups. We added information about charging, usage, safety, features, and design of the best scooters. We also included specs, material design, and overall ease of riding the scooters in our reviews. Lastly, we provided information about the Razor e300 electric scooter, and competitors, to help consumers find the best option.
The Best Comparable Electric Scooters
There are several comparable models to choose from when comparing electric scooters. For those who want alternatives to the Razor e300 electric scooter, these are a few great options to consider.
GOTRAX GXL Commuting Scooter
[amazon box="B07K9MB6X1″]
This scooter can achieve a max speed of up to 15.5 MPH and features two large, 8.5-inch pneumatic tires. It is ideal for daily commuting around town, to work, or to run errands. It features a 250-watt motor and can hold a max user weight of 220 pounds.
The scooter also has a 36-volt battery and can travel up to 12.4 miles on a single charge. This distance is much higher than comparable scooters, such as the Razor e300 electric scooter. The recharge time is also considerably shorter, requiring only four hours for a full battery charge. The folding, portable design makes it simple to take the scooter on the go as well.
Several customers complain about poor customer service. Many criticize that the product dies after a short period of use, and getting a refund is difficult. For the price, owners would hope for better product quality than this scooter delivers.
TianRun Electric Scooter
[amazon box="B07FVDH7BB"]
This scooter features an 8.8 Ah battery and can travel a range of 10 to 15 MPH. The average distance owners will get on a single charge is 8 to 15 miles. The electric scooter can hold users up to 264 pounds in weight. So, it is a little sturdier than comparable scooters.
The scooter has a 250-watt motor and features three different speed levels. It also has an LCD screen that allows users to adjust settings when they choose to do so quickly. The three-second foldable design also ensures the scooter is compact and easily transportable. It features sizeable 5.5-inch pneumatic tires, with safe braking, and can make quick stops when necessary.
Quality defect and performance concerns are some issues owners of this scooter mention. One reviewer claims the product had defects upon arrival so that they couldn't use it.
Glion Dolly Foldable Scooter
[amazon box="B018KTMOPG" template="horizontal"]
This sizeable electric scooter features a 6.6 Ah battery, with 36-volts of power. The quiet, 250-watt motor guarantees high levels of performance and speed when using the scooter. The brushless, gearless, and chainless design is more subdued than comparable products. It is also more durable, and owners complain of fewer issues with the motor than the alternative chain-motor.
The large rubber tires never go flat or lose air while riding. The maintenance-free, anti-lock brake system also ensures safety when riding at top speeds. The scooter can travel up to 15 MPH and has a range of up to 15 miles on a full charge. It comes with a rear bell and a carrying case. A short charging time of 3.25 hours is also something owners appreciate with this product.
Good quality, but the product doesn't have good suspension performance. For the higher price, this is something the reviewer indicates the manufacturer shouldn't overlook. It makes it difficult to ride on bumpy or uneven streets, roads, and off-road also.
Costzon Electric Scooter
[amazon box="B0793BPQ11″ template="horizontal"]
The scooter has two, 12-volt batteries for total 24-volt power. It can reach speeds of up to 7.5 MPH. Owners can expect an average of 5 to 10 miles distance on a single charge with this scooter. The product comes in a foldable or standard model. It also features a retractable kickstand.
It is for teens and adults who are 14 years of age or older. The maximum user weight is 155 pounds, so this dramatically limits who can use this commuter scooter. It is best for light users and younger teens for daily commuting needs. The adjustable height handlebars are also a nice feature on this scooter. It allows riders of varying heights to adjust quickly to meet their riding needs on the scooter. The average charge time is six to eight hours for full battery power.
The major drawback of this scooter is the rider weight limit. It also drains the battery fairly quickly. Larger and taller users are also going to waste the battery life faster than teens do. So, reviewers suggest changing the ride mode and adjusting settings to maximize battery life with this product.
NineBoot by Segway
[amazon box="B0779FW1FC"]
Large front, 8-inch pneumatic tires, and rear 7.5-inch tires make riding smooth and easy on this scooter. The riding range is up to 15.5 miles on a single charge, and the max speed is also 15.5 MPH. There is a mobility connectivity app so that users can track different functions on their smartphones. The scooter is for teens and young adults. The max user weight suggestion for this product is 200 pounds.
The scooter also features a cruise control speed setting. This feature is great for those who are riding the same paths daily. They can set the speed to ensure they'll reach their destination on time. It is also a nice feature to help reduce battery consumption by traveling at lower, consistent speeds. The LED display makes controlling it easy by indicating battery life and other functions when riding the scooter. It also has front and rear LED lights. This is an excellent as a safety feature when riding in the dark. It also has an electric braking system.
Several consumers complain about the quality and the product breaking down after a short ownership period. This reviewer claims the wheels began to squeak and the motor begins to rattle after short distances. The reviewer also notes that the scooter is quite heavy to carry uphill.
Our Verdict: The Razor e300 Electric Scooter vs. the Field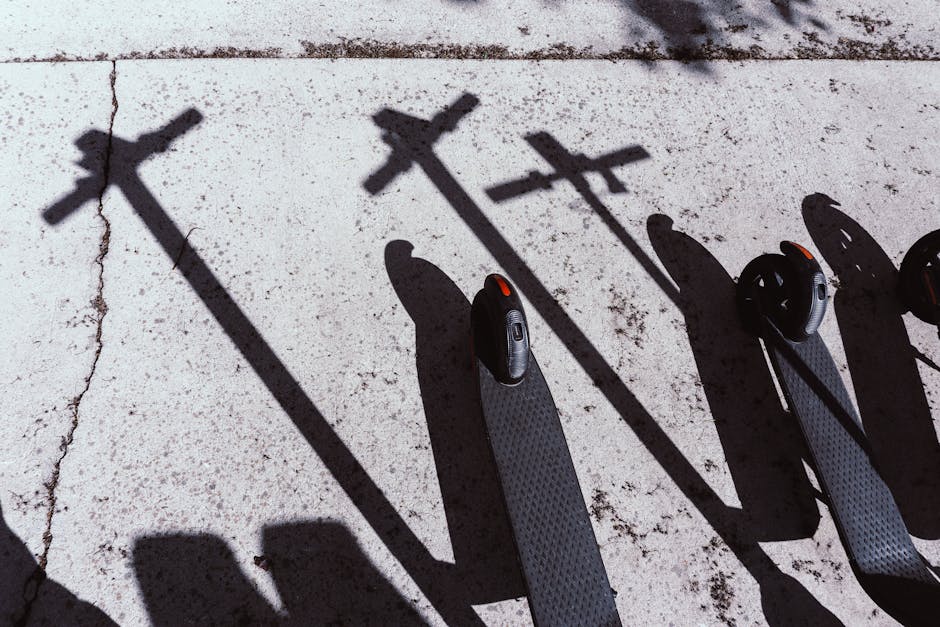 Image via Pexels
An electric scooter is fun for kids and an economical (fun) mode of transportation for adults also. The Razor e300 electric scooter is an excellent option for those looking for a new scooter. One of the leading companies manufactures it so that customers can rely on the quality. It does have some drawbacks, especially concerns with power and battery charge times. Consumers also claim it heats up quickly. If you're not mindful of this, it can pose some dangers for riders. If you're looking for an economical scooter, from a leader in the industry, the Razor e300 electric scooter is it.
Consumers looking for an affordable alternative should consider the Costzon scooter. It is for users age 14 and older and features a 24-volt battery. The product can attain speeds of up to 7.5 MPH. It can also travel an average of 5 to 10 miles on a single charge. It has a full riding frame and base, and adjustable handlebars for each rider's height needs. There is a regular and foldable variety of this product, so owners can easily transport it as well. For the price, it is efficient and provides reasonable power for daily commuting.
For those who can afford it, there are many great options by Razor, as well as other manufacturers. No matter what you're looking for in a new electric scooter, there is one to fit your needs. The Razor e300 electric scooter and these competitors are some of the best options for any budget shopper to consider.