*This post may contain affiliate links. As an Amazon Associate we earn from qualifying purchases.
You might be here because you've been late to work one too many times and are considering an alternative mode of transportation like the Razor Ecosmart Metro Electric Scooter. An electric scooter is great for commuting, especially in big cities, or just because you don't want the high expense of owning a car. Going grocery shopping to and from work, or getting around town on your Razor Ecosmart Metro Electric Scooter will simplify your life.
Whether you're an Eco-friendly commuter looking to reduce your carbon footprint, or want an affordable and reliable scooter to get you around, you will appreciate the features this electric scooter has to offer. If you've ever been late to work because the bus came late, or scoured at the high cost of an Uber-ride to go to and from the grocery store, this scooter may be for you.
| Product | Details | Price |
| --- | --- | --- |
| Razor Ecosmart Metro Electric Scooter 1 | Top Speed18-20 MPHMotor500 Watt36V electric systemBatteryUp to 40 minutes run timeUp to 2.5 hours to rechargeBraking System and TiresHand-operated throttle brake systemRear braking disc system16-inch pneumatic tiresFrame and SeatingBamboo wooden deck basePowder-coated frameFully padded seatLuggage rack and a basketWeight85.5 lbs220 lbs capacityFeaturesZero emissionsNoise-free | [amazon fields="B002ZDAEIS" value="button"] |
| Columbia TX-550 | Top SpeedUp to 15 MPHMotor550 WattHigh-torque DC neodymium motorBatteryUp to 3 to 4 hours run timeUp to 6 to 8 hours to rechargeFrame and SeatingSturdy steel frameABS resin deckSeat or standing positionAdjustable seatAdjustable handlebardsWeight Capacity180 lbsFeaturesRetro design | |
| Swagtron Swag Cycle | Top Speed10 MPHMotor250 Watt36V batteryBattery2.5 hours to rechargeBuilt-in USB charging portFrame and SeatingLightweightUnder 30 lbsFeaturesOnboard dashboard handlebar displayEco-friendlyEmission-free | [amazon fields="B01MTOL6HF" value="button"] |
| Super Turbo 1000-Watt Scooter | Top Speed26 MPHMotor1000 Watt36V batteryBatteryUp to 18 miles per single chargeWeight CapacityUp to 250 lbs | [amazon fields="B0063V2DJQ" value="button"] |
Razor Ecosmart Metro Electric Scooter Overview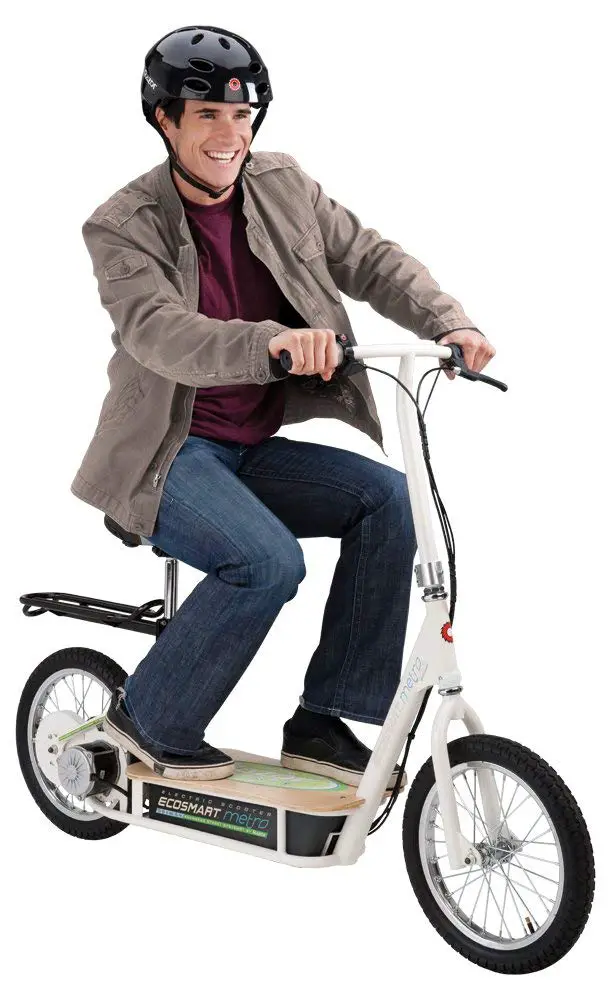 The Razor Ecosmart Metro Electric Scooter is a highly efficient electric scooter. You can think of it as your brand new "grown-up" bike you rode around as a child. Unlike gas scooters, it doesn't emit noxious gases and fumes into the environment. It does, however, allow you to get around town quickly and easily.
It is a comfortable, noise-free scooter that gets reasonable mileage on the road.
Specs and Features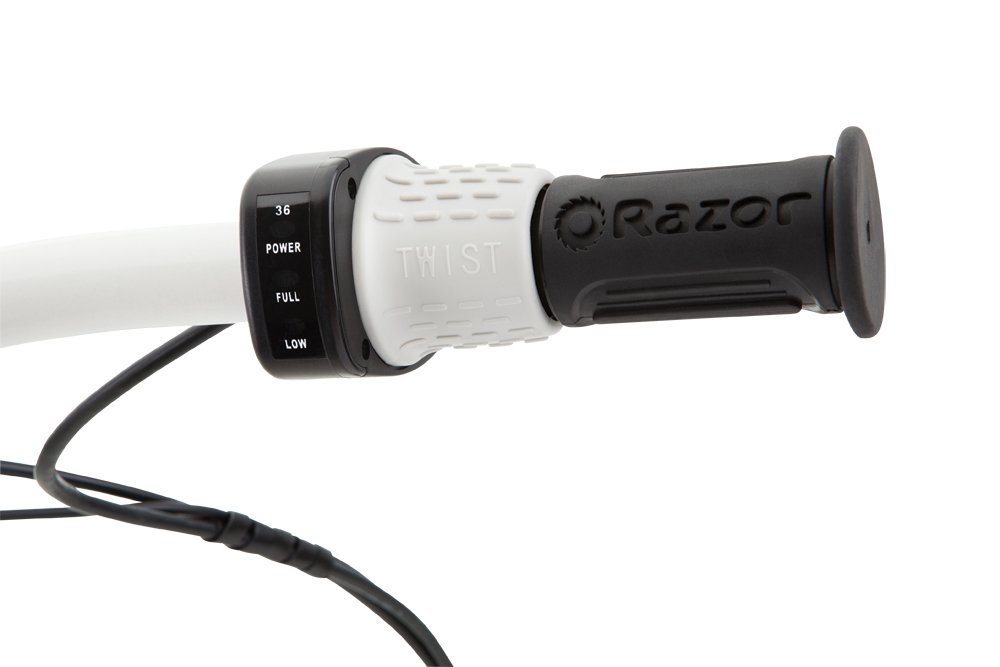 The scooter reaches a top speed of 18-20 MPH you can efficiently weave in and out of traffic on sidewalks and bike paths. Its highest speeds are affected by user weight, riding conditions, and other road conditions.
Motor
The heart of a great scooter is the motor. The Razor Ecosmart Metro Electric Scooter operates on a 500-watt high torque motor. The 36 V electric system runs quietly, meaning zero-noise operation, even when riding at top speeds. The 36 V battery is broken down into three 12V-sealed lead acid rechargeable battery.
Battery
The battery life for the Razor Ecosmart Metro Electric Scooter is approximately 40-minutes runtime on a full charge. It will take up to 2.5-hours to recharge the battery if it is dead. If the battery isn't empty, you reduce your charge times significantly.
Braking system and tires
A hand-operated throttle operates the brake system. It features a rear braking disc system, ensuring the scooter will come to a complete halt when it has to. The 16-inch pneumatic tires help prevent skidding/sliding when braking in wet driving conditions. They also help you come to a complete stop when making spur of the moment decisions. The scooter has tube tires on spoke wheels.
Frame and seating
The scooter's base is a bamboo wooden deck base and features a powder coated frame. The design helps to prevent rust damage, peeling, or chipping of the paint. The seat is fully padded for high levels of comfort, regardless of how long you're riding. It also features a luggage rack and a basket for groceries or other small items.
Weight
The Razor Ecosmart Metro Electric Scooter weighs approximately 85.5 pounds. The user capacity for the scooter is up to 220 pounds. The padded seat creates comfortable conditions for users.
Zero emissions
As we mentioned, the electric scooter doesn't emit gases, fumes, or harmful toxins into the environment. It operates entirely on battery power, getting you to any destination quickly and easily.
How it Compares to Other Brands
You want a scooter which will get you to your destination safely, quickly and is affordable. Let's take a look at a few competitor models to see how they stack up against the Razor Ecosmart Metro Electric Scooter.
Sturdy Steel Frame
Non-Slip ABS Resin Deck
500 Watt Hi-Torque Motor
15 mph Top Speed
8-mile range
This seated electric scooter has a retro-design, sturdy steel frame, and a non-slip ABS resin deck. It is perfect for cruising, getting around town, or making it to an appointment on time. It features a 500-watt alloy, high-torque DC neodymium motor.
Some of the benefits of this scooter include its rugged design and frame. A steel finish prevents dents, dings, and different signs of damage, which other materials can't resist. It can reach a top speed of 15 MPH allowing you to get to any nearby destination in a short period.
Some drawbacks include the long charge time, of six to eight hours for a full charge. However, the user capacity is only 180 pounds, making it a scooter which is geared more towards younger users, rather than commuting.
Swagtron Swag Cycle
[amazon box="B01MTOL6HF"]
If the name doesn't sell you on this scooter, the features and design might. The bike can operate up to a 10-mile range and features a collapsible design making it easy to store when not in use. It runs on a 250-watt motor and 36 V battery. The charge time for this scooter is two and a half hours, and it has a built-in USB charging port allowing you to charge your phone and other devices when riding.
One of the major selling points of this scooter is the onboard dashboard handlebar display. You can view battery life, turn the headlights on/off, honk, accelerate, and brake from your handlebars. The 100 percent electric scooter is eco-friendly and emission-free. You'll save on the cost of gas and are riding a scooter which is environmentally friendly as well.
Some drawbacks users complain of include the short operation/runtime which is only up to the 10-miles distance. That makes it ideal for extremely short commutes and might limit those who want something for daily use. The lightweight frame, of under 30 pounds, also means the scooter isn't as sturdy as others. It can quickly be pushed down, moved, or vibrate while riding.
Super Turbo 1000-Watt Scooter
[amazon box="B0063V2DJQ"]
If you've got a little more to spend, this is a great scooter to consider as an investment. The 36 V battery and 1000-watt motor can produce speeds up to 26 MPH, making it the fastest of all models listed. Many users can operate the scooter, as it has a weight capacity of up to 250-pounds. Upgraded sprockets and chains make this one of the most durable and efficient seated scooters on the market.
Among the benefits owners will approve of are the faster speeds of nearly 30 MPH, in comparison to other electric scooter models. Longer distance of 18-miles on a single charge, also allows you to commute to nearby destinations, without worrying about getting stuck without battery-power to get you home.
The biggest drawback of this bike is that it does require some setup before use as well, so you'll need tools and should set aside some time to put the components of the bike together.
Razor Ecosmart Metro Electric Scooter Pros & Cons
Still on the fence about whether the Razor Ecosmart Metro Electric Scooter is right for you? Let's review some of the pros and cons owners should understand before purchasing this scooter. Of course, you want a great scooter which performs efficiently and gets you to and from your destination in a timely fashion. With the Razor Ecosmart Metro Electric Scooter, this is just what you're going to get. Before investing in your new Razor Ecosmart Metro Electric Scooter, you also have to consider the disadvantages.
Pros
No fuel costs

It is safe for all riders 18 and older

The electric scooter is powder-coated to prevent rusting, color fading, and other signs of damage

Requires little to no maintenance

Requires minimal assembly
Cons
Maximum speeds reach 20 MPH

The battery positioning isn't the safest location

16-inch pneumatic wheels can be uncomfortable

Not as powerful as a gas scooter
Our Verdict
An electric scooter is an excellent mode of transportation for those who are tired of public transportation or walking everywhere. Especially when conditions are extremely hot (or cold), and you want to reach your destination in a timely fashion. It is cheaper than owning a car, safer than riding in dangerous cities, and you don't have to pay extremely high insurance costs to ride on.
If you're considering investing in an electric scooter, the Razor Ecosmart Metro Electric Scooter is a great option. The efficiency, high-torque motor, elegant design, and sturdy construction, are a few of the many great selling points. When you pair this with reasonable speeds and operable use on a single charge, it trumps many competitors on the market. And, the Razor name is synonymous with quality and durability in the scooter industry so that you can expect high-level performance. Purchasers also receive a 90-day warranty with purchase from the manufacturer, allowing you to test the waters before committing to the scooter.