*This post may contain affiliate links. As an Amazon Associate we earn from qualifying purchases.
Often, public transportation is unreliable, leaving you in a tough situation when you need to get to work on time. And for those who've ever paid a ridiculous rate for an Uber ride up the road, you'll do anything to avoid that. For shorter commutes, the Razor A5 Lux Scooter can help you get to and from nearby destinations quickly. A scooter is an excellent mode of transportation for kids and adults alike. For those who are looking for something reliable, easy to ride, and efficient, the Razor A5 Lux Scooter delivers.
Comparison Table
[amazon box="B01M98EKEM,B015X3BV3S,B07MNQLXVQ,B01N563SG0,B07JQG196T,B07F75S98C" template="table"]
About Razor Scooters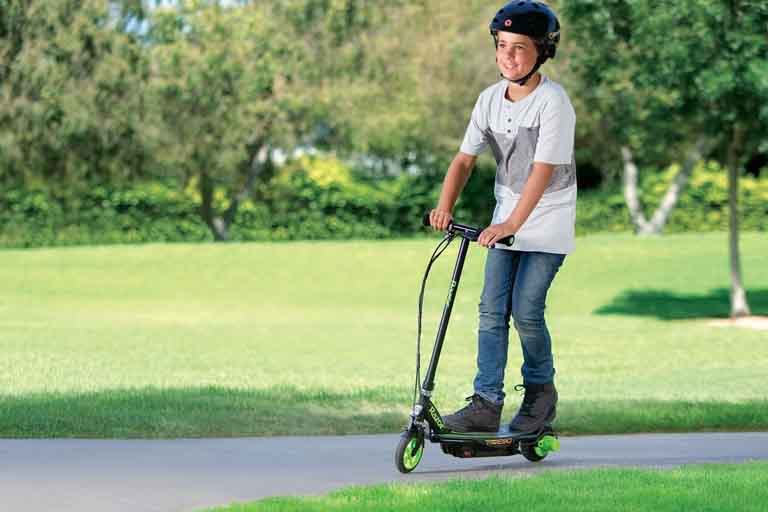 Since its inception in 2000, Razor Scooters have been the leading manufacturer in the scooter market. To this day, the company is a leader in the industry for both electric and manual scooters. The Razor brand has become synonymous with quality, precision, and the best material finishes. The company sells scooters for both recreational and commuter/transport needs. Both children and adults rely on scooters, such as the Razor A5 Lux Scooter, for transport.
The Razor A5 Lux Scooter Specs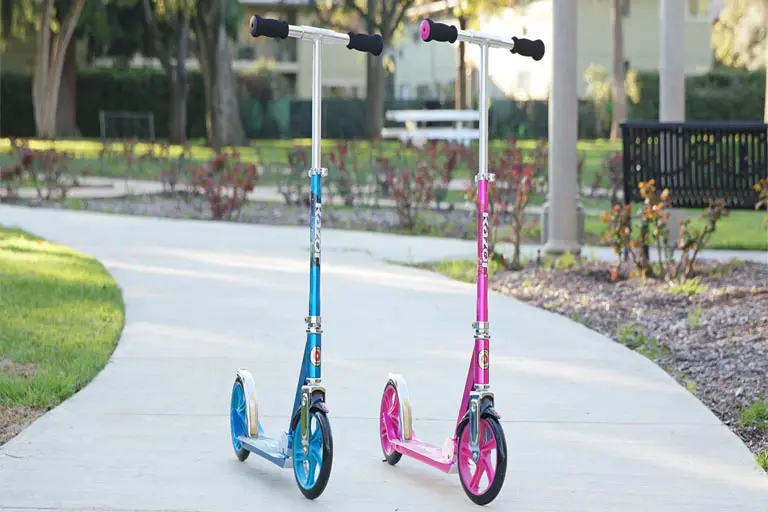 Weighing in at approximately 5.5 pounds, the Razor A5 Lux Scooter is very easy to transport. It has a user capacity limit of 220 pounds, making it perfect for both kids and adults. The scooter's dimensions are 35 inches long, 21 inches wide, and 41 inches tall when fully extended. Customers will receive a 180-day warranty with their purchase. The scooter is available in three color schemes: blue, red/white, and pink.
Design
[amazon box="B01M98EKEM"]
For adults using a scooter for transportation, it is essential to choose one with a well-built frame and design. The Razor A5 Lux Scooter features a solid riding deck. It can also handle a relatively high weight capacity, making it suitable for adults of all ages.
The riding deck 
Although the Razor A5 Lux Scooter looks similar to most scooters, it has a solid riding deck. Made of aircraft grade aluminum, the stiff deck provides stability and control to all riders. The urethane wheels, similar to the materials used in skateboards, also helps create a comfortable riding base. The large wheels provide stability and even weight distribution. With larger wheels, it makes it easier for beginner and novice riders to get the hang of riding the scooter.
Large wheels
The massive 200-millimeter wheel size makes it perfect for taller riders by providing great height off the ground. This feature offers riders more stability when they're navigating at faster speeds. With a little more clearance off the ground than children's scooters, this model is perfect for adults. It gives them more performance, power, and greater kick control when riding longer distances.
Kickstand
When riders want to take a break from riding, the kickstand is a nice feature on the Razor A5 Lux Scooter. It has a folding mechanism that allows owners to fold the scooter when not in use. And the adjustable handlebars also enable owners to close the scooter to a compact size for easier transport. It can comfortably fit into a backpack or small compartment when riders are done riding the scooter.Another added benefit is that the Razor A5 Lux Scooter comes fully assembled. There are no complicated screws, nails, or pieces to put together. Just tighten the handles to the frame, and its ready to go for a ride. No lengthy guide or owner's manual to crack through before taking it out for a spin.
Rear-fender brake
The high-quality rear-fender brake makes stopping and restarting simple for riders as well. It is simple to use, and riders don't have to worry about a complicated hand braking system. Just step on the little bump above the rear wheel, and the scooter comes to a halt.
Powerful Performance and Ride
The Razor A5 Lux Scooter has a solid build. Aluminum grade steel offers owners peace of mind in knowing it won't buckle when riding. High levels of riding comfort make this scooter perfect for the adult commuter. Although it doesn't feature a suspension, the large deck and adjustable handlebars make for a comfortable ride.
With larger wheels, riders can also travel a longer distance per kick/stride. The smooth and lightweight wheels and frame, and streamline design, create the perfect balance and rider performance. It is important to note that the Razor A5 Lux Scooter is best suited for dry weather. Although riders can take it out in the rain, it is difficult to prevent sliding on wet pavement. Limited traction might limit usability during damp or rainy conditions.
Benefits and Drawbacks of the Razor A5 Lux Scooter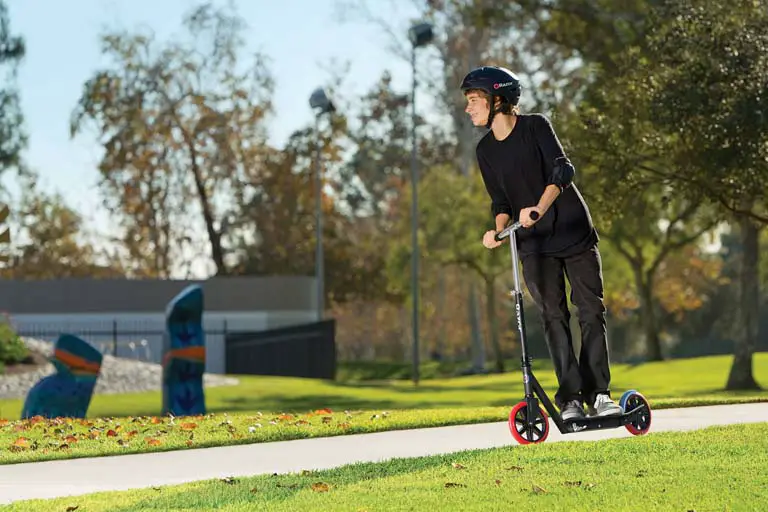 Like every scooter, there are positive and negative attributes about the Razor A5 Lux Scooter. Some of the benefits include:
It comes fully assembled, so there's no lengthy instruction guide or manual to follow. The high-quality urethane wheels are sturdy and won't crack under pressure. Wheels provide a smooth base, even over large cracks, bumps, or divots on the pavement/road. A comfortable deck is suitable for kids or adults and the kick scooter is reasonably priced in a competitive market.
There are some drawbacks to note with the Razor A5 Lux Scooter. These include:
The appearance is relatively simplistic, creating a generic looking scooter. It isn't suited for adverse weather conditions. Larger wheels might make it tough for shorter riders to ride this scooter initially.
Pros
Comes fully assembled

Features high-quality urethane wheels

Provides a smooth base

Suitable for both kids and adults

Affordable and reasonable
Cons
Generic look

Not suitable for harsh weather

Shorter riders will have difficulties to ride
Average Price and Where to Buy
The Razor A5 Lux Scooter is within the average price range which us very affordable and reasonable. The color and retailer will significantly impact the purchase price. It is available on sites like Amazon, Walmart, Sears, and Target.
Review Process
In comparing the Razor A5 Lux Scooter with other kick scooters, the price was just one of the factors. Our review also details the usability, riding comfort, design, and simplicity of these scooters. Additionally, customer reviews and brand-name reputation were also aspects of the review process.
Competing Scooters
It is essential for consumers to have more than one buying option when purchasing a new kick scooter. In addition to the Razor A5 Lux Scooter, these are a few top-rated adult scooters available.
[amazon link="B015X3BV3S" title="Fuzion Cityglide Adult Scooter" /]
[amazon box="B015X3BV3S"]
The affordability is just the starting point when it comes to this adult kick scooter. It has a rider capacity of up to 220-pounds, perfect for teens and adults. The bright yellow color is highly visible, making it safer to ride at night. Adjustable handlebars and folding mechanism make it quick and easy to store this scooter when not in use.
The lightweight aluminum frame is well-built and sturdy. However, the material helps keep down the overall weight of the scooter itself. A large rear step-brake allows riders to stop if they are in an emergency situation quickly. The telescoping handlebars adjust quickly for a rider's height. The oversized wheels provide additional traction and support over any riding terrain.
Some purchasers complain that the handlebars are not secure. Even when fully locked into place, they shift and move over the bumpy terrain. Some reviewers also claim the aluminum frame isn't as sturdy as Razor, or other top manufacturer designs. Limited brake friction also makes it tough to stop quickly or on wet roads. This is especially true when going downhill or downsloping roads.
[amazon link="B07MNQLXVQ" title="VOKUL Lux Big Wheel Kick Scooter" /]
[amazon box="B07MNQLXVQ"]
Large 205-millimeter wheels and a quick-folding design make this a great adult kick scooter. It features adjustable reinforced handlebars, and a 14-inch by 4.5-inch riding deck is ideal for teen and adult riders. It also has a rider weight capacity of 220-pounds so that it won't crack under pressure.
At 8.8 pounds, owners like how transportable the scooter is. It quickly folds for storage when not in use, making it perfect for commuting. The large wheels also help reduce vibration when jumping or moving over cracks or maneuvering on the road.
Some consumers noted safety concerns with this scooter. Riders claim the handle locks while riding, making it difficult to brake or transition quickly. Additionally, the long assembly times are also a complaint which many purchasers note. Issues with the steering column alignment are also noted by some reviewers.
[amazon link="B01N563SG0″ title="HODURA Adult Folding Scooter" /]
[amazon box="B01N563SG0″]
Two large 205-millimeter PU wheels are sturdy and provide an excellent base for this kick scooter. The adjustable bar makes it perfect for riders of all heights looking to customize their riding style. The high-quality aluminum material frame won't dip, dent, or crack under pressure. The maximum user weight capacity is 220-pounds.
Riders like the comfort they experience riding this scooter. The foam padding on the handlebars provides a comfortable place to keep their hands for long rides. PU wheels are smooth and help reduce vibration over divots or dips in the road. The scooter is highly transportable, weighing about nine pounds. It also folds for storage when not in use, allowing commuters to keep it under their desk at work.
A high level of ground clearance is a significant complaint by some consumers. This distance requires more pressure and kicking to travel longer distances on the scooter. The price is another primary concern for some shoppers. As the highest-priced model on the list, some consumers will look elsewhere for a more affordable option. Some also complain that for taller adult riders, this might not be the most comfortable kick scooter.
[amazon link="B07JQG196T" title="GoPlus Folding Kick Scooter" /]
[amazon box="B07JQG196T"]
This scooter has a 220-pound weight capacity, so it is suitable for teen and adult riders. It features a folding glider deck and large rubber wheels for stability. The handbrake gives riders control over stopping and restarting with the touch of a button while.
Consumers appreciate the quality aircraft-grade aluminum construction. The scooter is well-built and intended to last. It folds easily for storage when not in use. The dual-suspension also creates a smooth, gliding, riding surface. There are three levels of adjustment, ideal for kids, teens, and adult riders. The patented rear-fender brake provides added stability, on top of the handbrake, giving riders an added sense of security.
The adjustment feature is one area some riders don't like. It has three settings, so it doesn't necessarily adjust correctly for each rider's height. Limited utility and mobility are also aspects customers don't appreciate much with this scooter's design. The large rubber wheels seem a bit jolty riding on rough terrain or bumpy roads.
[amazon link="B07F75S98C" title="Li-yu Kick Scooter" /]
[amazon box="B07F75S98C"]
This adjustable kick scooter is perfect for teens and adults. It features two large 205-millimeter wheels. The larger wheels provide a solid riding base and foundation for taller riders. A 14-inch by 4.6-inch deck also provides a solid grounding for adults to feel safe when riding at faster speeds.
The scooter is adjustable up to 41.9 inches in height and features large rubber wheels for stability. It has a dual-suspension system, and bearings reduce vibration over cracks or bumps in the road. The folding design makes it easy to store. A 220-pound user weight capacity also makes it suitable for teen and adult riders.
One of the main cons consumers complain about is the rubber wheels. They can be tough to stop in wet or slick conditions. Another complaint is the platform's distance from the ground. Taller riders will have difficulty kicking because of the ground clearance. Greater clearance requires more pressure and strength when riding, possibly tiring riders out on long distance rides.
Is the Razor A5 Lux Scooter the Best Scooter for You?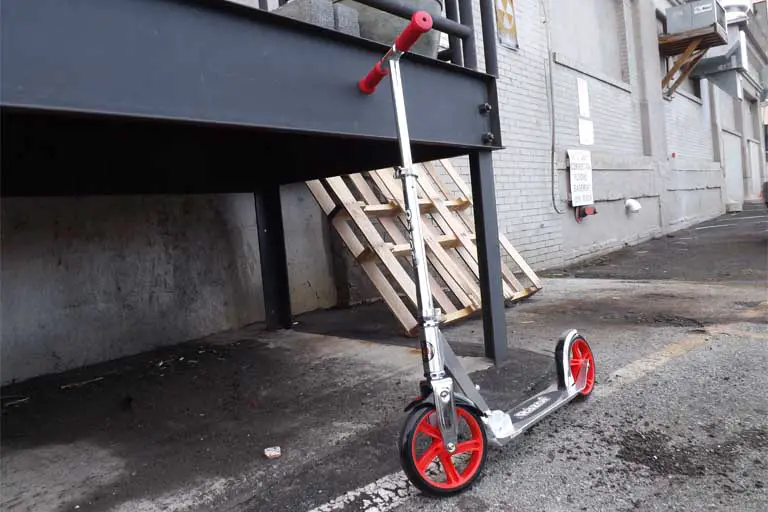 Overall, the Razor A5 Lux Scooter is one of the best kick scooters for teens and adults. It is efficient, reasonably priced, and perfect for daily commuter needs. Although it isn't ideal for 20-mile long trips, it is suitable for traveling to and from work or the local grocery store. The large wheels provide high levels of stability, comfort, and support for adults.
The large deck and aluminum grade material finish, provide a stiff riding deck to prevent falls or injuries. It is available in three color schemes, for those who want to personalize the appearance of their scooter a bit. For the price and brand-name recognition, it is an excellent scooter for daily use, whether that is for leisure rides or transportation needs.
Featured image: CC by SA-2.0, by Jesse Palmer, via Flickr